Pistol Packing Bullyagrapher

Staff member
May 5, 2010
7,481
733
Country

United States
Bulldog(s) Names

Vegas and Orion
My husband has spent the last 10 days in Missouri with his dad's family.
When he got home, he couldn't believe how chunky Orion was. I've been telling him for over year that we needed to cut down her food. There's no reason she should be getting the same amount of food in a day that Vegas does. She's 20 pounds lighter than him. But my husband is such a softy. He looks into her big brown eyes and he is such a pushover. So Orion is on a diet! Poor baby girl!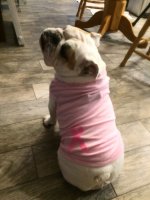 I guess with 10 days away he forgot what a chunk butt she is. My brother-in-law has a little mixed breed 10 pound dog...... I guess he got use to seeing him all the time that seeing Orion was a little bit of a shock!!