Have Bulldog Will Travel

Staff member
Jan 20, 2016
4,083
843
Country

United States
Bulldog(s) Names

Lala, Dozer, & Chesty
Here's MINI's new feeding station.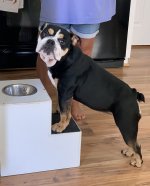 It elevates her enough so that she can eat without regurgitation and as soon as she's done she goes right in Sandy's lap for 20 minutes. We call it "up time." It has been working very well for several months.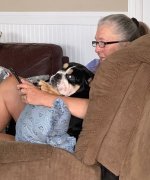 The reason for the change is that the Bailey chair was causing her hind leg issues...PAIN!...and MINI was having none of it. We tried and tried but were never successful at getting her to sit upright. We found success with this routine and both Sandy and MINI love their up time.
And, FWIW, my favorite Bulldog coffee cup...GOOD MORING, everyone!
Just cuz it's funny!