Worlds Greatest Chef

Feb 25, 2011
8,925
850
Country

United States
Bulldog(s) Names

Tate Rory & Finn Paddington
I thought I wrote a post about this toy before but I couldn't find anything, so here goes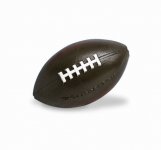 I have been buying this Tuff Football for Finn for a couple years now. It's probably Finn's favorite toy of all, the ball he goes to every single day, multiple times a day, and one ball that has LASTED. Keep in mind that Finn is a very HARD chewer. This is one of the most durable balls I've found so far (other than the Varsity Ball). The nice thing about this football is he can carry it in his mouth around the house, and sucks on it as he falls asleep. It's also a softer ball so it won't ruin your wood floors.
The bonus is it comes with a nice minty scent too

It's made from a company called Planet Dog Orbee and cost around $13.00 on
Amazon
.
The ball will usually last him about 3-4 months which is pretty good, I'd say. You need to be careful with the white strip that goes across the ball as this can be more easily chewed/peeled off. When i see him doing this I will just take the strip off and toss it.