Jan 5, 2014
206
7
Country

USA
Bulldog(s) Names

Dozer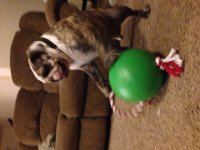 Just wanted to say thanks for the Tuggo toy which Dozer
won on the Mothers Day contest. It is the best toy ever.
He should sleep well tonight. He has never played so long or
hard with any toy. I'm so excited and just to think yesterday
I was posting because I was worried about him being bored.
I finally had to take it from him so he would rest. Thanks again,
Tuggo Toys Inc. We LOVE our new toy.
I'm going to try to post more pics in the album tomorrow, once
I figure it out.