May 10, 2013
2,383
136
Country

USA
Bulldog(s) Names

Mayhem
Mayhem's favorite toy used to be the Jolly Ball, but for Christmas @
mer55
gave him his favorite gift ever.......a Crunchcore Bone. It sounds like an empty water bottle when he chews it, but it doesn't break apart/tear like the water bottles. He loves this thing!!!! Last night he chewed on it for over 1-1/2 hours straight.
We then took him out for his last potty for the night. We came back in and told him to get in bed (crate). Normally he walks right into the crate at this time, but not last night. He needed to make a little detour and pick up his favorite bone and then go to bed

As soon as we got up this morning, he went out to do his business, then ate breakfast. Immediately afterwards, he picked up the bone and has been carrying it to different spots around the house with him for a little chew time.
Now, if I could only figure out how to keep it from rolling under the furniture, so I don't have to stop whatever I am doing to retrieve it for him immediately. Otherwise, he will whine non-stop wanting his toy.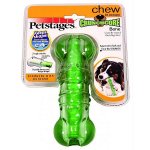 Thank you again @
mer55
!!!! He adores this bone