Ok, I was fed up with Roxi breaking out in hives so off to a new vet we went...I have heard nothing but great things about this vet and everyone that has gone to her absolutely loves her! So, I took the plunge!
Roxi has recurring breakouts of hives *(since about April 2011)...there is no rhyme or reason to them. The hives just randomly appear all over her back! In the beginning I assumed it was from seasonal allergies. Well, no real relief came with giving her benadryl, zyrtec, chlorpheniramine. The runny nose, watery/red eyes seemed to go away when on those meds but the hives would take about a week to a week and a half to go away! So, three steroid shots later I said enough is enough and even conisdered changing her food (she is on Nature's Logic). But I honestly didn't think it was a food allergy. She showed no signs of food allergy so I finally decided to stick with Nature's Logic (which the vet agreed was the right choice)
Anyway....so, today at the vet... I have never been more impressed in my life!

She knew exactly what what going on the minute we stepped in the doors! She believes Roxi over produces histamine and her body isn't able to to recover from the last bout of overproduction which causes her recurring outbreaks of hives.
The vet is completely against steriod shot (unless absolutely needed) so we were given some liver enzymes (Hepar Tablets 1 pill for 30 days) and CoEnzymeQ to aid the liver in filtering toxins (ie. histamines) and act as an antioxidant to help her little body recover and hopefully not react to the histamine that is being overproduced. We were also given an Apis-Homaccord/Lymphomyosot cocktail to give to Roxi if needed for a breakout. (she didn't think it would be needed though).
As the title of this thread says...Hopefully, we have found the solution to this ongoing problem. I plan to keep a journal of the next 30 days to see how things progress.
Oh and by the way....she sells Nature's Variety and Nature's Variety Instinct and the LID formulas! Although Roxi doesn't eat that I was extremely impressed that she sold a good food!
You can google her name if you want (P.J. Broadfoot). She has some literature that is pretty interesting.
I hope this works and I will try to update at least once a week until the pills are gone!
Here is a picture after the vet visit waiting on me to get finished studying! She weighed in at 39.7 lbs today! Can't believe my baby is already 15 months old!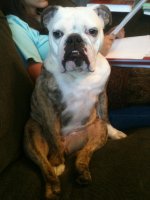 PS-- She looked at her legs as well and said there were no issues...She must have sprained something being that she is so active (update from thread: Leg Popping and Slight limp).
Last edited: