Dec 24, 2018
5
0
Country

United States
Bulldog(s) Names

Matilda
I am at a loss for words as we lost my dear Matilda, a beautiful red brindle and white English Bulldog, this morning. To start - We took a 5 hour car ride for the holidays, a trip she has done 40+ times. Upon arrival she was acting mostly like herself, eating a little dinner, some treats and drank water which did not seem to be in excess and used the bathroom as normal and took a nap. Then when we went to bed she could not get comfy and didn't seem to want to go to sleep so my wife took her to the living room to get on couch, one of her favorite spots. Soon thereafter she came back to the bedroom and I put her in the bed. I went to wake my wife and noticed Matilda had pooped in the living room. I cleaned it up and my wife and I got in bed w Matilda and heard her tummy making rumbling noises and then she appeared she was going to throw up but nothing came up. I decided to take her outside to see if she had to potty or throw up at which point I noticed her stomach was expanded. I watched her try and go potty why frantically googling the symptoms only to come across GDV. Honestly I had never heard of this and don't know why as Matilda went through a lot and saw a lot of Vets in her 11 years and 7 months as we would do anything to keep her healthy. I freaked out, found a 24 hour vet as it was 4am, woke my wife and got on the road to the vet that was 90 miles away. I made it there in 50 minutes but it was 10 minutes too late as Matilda passed in my wife's arm in the backseat. When we got there the vet attempted CPR but quickly decided it was too late. He also mentioned that with her age and that condition the outcome was grim regardless.
So I have rambled forever in a whiskey induced numbness asking myself how this could have happened. She didn't do or eat anything unusual so what could have caused this and what could we have looked for to prevent it?
I am heartbroken and miss her terribly already.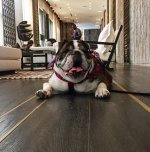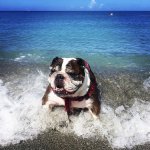 Any insight would be appreciated.