Jan 31, 2012
78
1
Bulldog(s) Names

Spunky
Ok, quick question, Spunky sleeps crated with a light bed sheet over her crate. Our thermostat is set to 72 and we use a stationary fan pointed towards our bed and the ceiling fan is also going. Thing is when I go to grab Spunky out of her crate in the AM her under belly is warm, is this normal? Or should we angle the stationary fan towards her a little?
Though she probably prefers to sleep here, lol!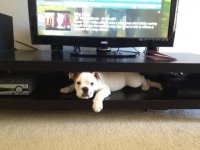 Don't Fight The Spunk!