Jan 19, 2017
4,294
567
Country

USA
Bulldog(s) Names

Bella (EBD) Roxy (pit mix) Tyson (pit mix) Sadie (boxer)
Any advice....
Poor baby was playing with her soccer ball outside and now she is limping..
I will be crating her and walking her on a leash for the next few days to see if she gets any better.
Anything I can give her (that I can get) or do for her before I have to take her to the vet?? I am praying that she will be better!!
I have a heating pad that she is lying on right now.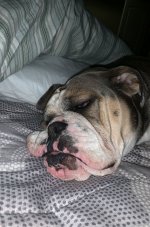 We are supposed to be going to Florida on Tuesday...