Nov 15, 2012
46
1
Bulldog(s) Names

Gumbo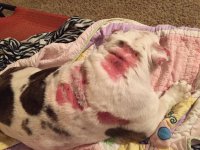 Can you please help me? I'm desperately needing help with Gumbo. She has these patches coming on her body. We have been treating them for months. The one on her body in the middle is the one that has healed but then it has spread. When I bathed her the rest of her hair came off (on Tuesday) and left that patch on her arm and under the healed patches on her body. The one on her neck the vet shaved about a week and a half ago.
Here is what we have done. The vet has ran labs, no thyroid issues. She is taking 1,000 mg of Cephalexin and has 3 days left on it. She has been on that for almost a month. She is also taking 40 mg of Prednisone. She has been on that for almost 2 weeks. She has had 3 different steroid shots and abx shots. No fever. No throwing up. She was on apoquel for 45 days before this. It started back with the first patch in January. It didn't really look like yeast though, more like Staph. Mange was ruled out via skin scrape. He was concerned about her ears but they are not yeasty inside. She has been on a fromms beef frittata and a homemade diet of cooked beef, brown rice, egg, apple sauce and green beans with dynovite since I got her 5 years ago. She is 12. I have changed her diet to Fromms Lamb and lentil which is grain free and cooked beef with eggs (including the shells) and green beans beans but I think I need to take those out maybe. I've been washing the patches 2-3 times a day and then putting apple cider vinegar and panalog on it or just the acv.
Im also recovering from 2 brain surgeries so I've been trying to treat this the best that I could. Until her hair came off this week I didn't realize her skin was so bad. I just need help. Please. I'm miserable and heartbroken. She is seeing the vet but he didn't catch this. I'm not sure why. I'm wondering too if I need a new vet. I'm thinking maybe I do. He thought it was a hot spot. Until I saw this one this week though, I could not smell it but I do smell her now. Does she need to be off the antibodies? Do I need raw? Do I need to stop the kibble? I'm so overwhelmed. She isn't scratching and I do have a follow up with him on Tuesday. I just need my baby well. She is drinking water like crazy and it seems more red than it did so maybe she is detoxing?
the black spot in the middle is where it originally started and it is healed now but she is still bald there. I'm not sure if she will get hair but I have to keep it shaved because the rest of it I'm trying to keep dry. Thank you so much.