Worlds Greatest Chef

Feb 25, 2011
8,925
848
Country

United States
Bulldog(s) Names

Tate Rory & Finn Paddington
On this Memorial Day, I spent the day at my cousin Howard's house. He invited me and specifically asked that Tate and Finn come along too. Of course, when anyone (friends or family), invites my boys, I'm pretty darn thrilled.
I had a great time seeing all my family members and Tate and Finn got all gussied up for the get together: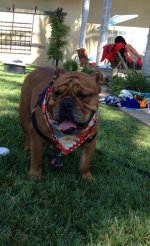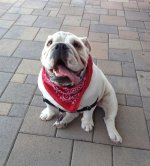 Howard and his family have 3 horses and here's Tate meeting Charlie for the very first time: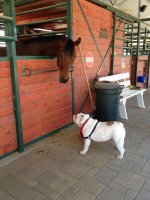 and curiously looking into the ring: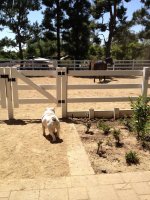 As two of the horses galloped around the ring for their daily exercise, Tate and Finn both would get very excited and start barking at them. Tate even ran towards the ring, trying to get close to them as you can see from these pics: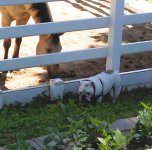 It was at this time that because Tate may have been aggravating the horse that I heard a very loud "WHACK!". My brother was yelling at me to grab Tate b/c he said the horse's hoof just missed kicking Tate in the face! I rushed over to get Tate the hell out of there and checked to see that he was okay. Thankfully, he was fine but I was a nervous wreck. Just a few minutes after this incident, Tate again rushed the fence and this time got
into
the ring. I was frantically yelling for him to come back, ran into the ring, grabbed him by the harness and hauled his a$$ out of there! I swear, I needed some hard liquor by then!
After that, I made sure to keep Tate far away from the ring, held onto his harness firmly, and we watched the horses from a distance!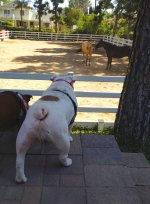 and here's my Finn telling his momma to "just relax and smell the roses"...everything turned out okay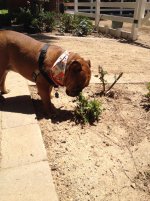 Hope everyone had lovely Memorial Day Weekend