Feb 23, 2015
36
3
Country

United States
Bulldog(s) Names

Lucy
...and let the dogs in. We follow a few minutes later. I'm standing in the kitchen and I hear what can only be described as a sigh of relief followed by some happy grunts and snorts. I walk into the living room and see this: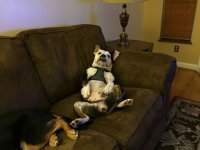 I thought I'd better grab my phone and take a picture before she moves, but I guess Lucy was comfy in her very un-ladylike pose and she stayed put for awhile.
Next time she will probably have gone to the fridge and gotten a beer. Before we got this bull dog, we had a pretty strict no-dogs-on-furniture rule. At some point, Lucy obliterated that rule and our other dog Piper happily followed suit.