Owner/Administrator

Staff member
Community Veteran
Jan 28, 2010
24,755
1,241
Country

USA
Bulldog(s) Names

The Home of the Desert Sky Pack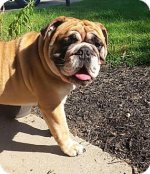 Roscoe's Story...
This is Roscoe. He is 2.5 years old and came into CEBR on Monday after his owners could no longer pay for his medical needs. We are thankful they reached out to us to help him. Please keep Roscoe in your thoughts and prayers as he is in a lot of discomfort from the trauma of having stones lodged in his urethra and straining to urinate for an extended period of time. He has to be catheterized for the next 5 days because his urethra is so swollen and bruised he can't pass urine on his own. Thankfully he's on a good cocktail of pain meds, but you can tell he's still quite uncomfortable.
Update: I've been ADOPTED!
To view more available English Bulldogs from this rescue, click this link ---> Chicago English Bulldog Rescue
Please let them know you found them on English Bulldog News!