...is to breed bulldogs that can mate and whelp naturally. I know most of you think it's madness, but we think it's the only way to over all healthier bulldog. First part was a succes with Voitto's sister Taika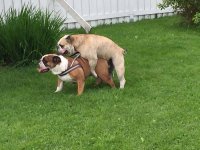 The second part was expected to happen this thursday, but things started to happen already on saturday, five days early. Her owner had been taking her temp for days and it dropped like it does before whelping and from there things should move along in a day, max 2. I drove to their home and the waiting started. The mother to be was in a good condition so the most experienced midwife (Voitto's and Taika's breeder) was not too worried that there was some discharge. The babies were moving and she thought that one is most likely lost. We stayed up and waited.... called the vet on sunday evening and she said we can waite until the morning. If there was no contractions by morning then we should take her to the vet. She was scheduled for x-ray on monday morning anyways, so we waited. I had to come home to work on monday morning, but on monday morning 10 babies were bore alive on c-section. 3 days early, but in good condition and hungry. One was dead. Unfortunately the first one in line to be born was the one that had died then on saturday. That started the whelping process, but it also kept it from moving on. The vet said that if she is to be mated again there is no reason why she coudn't give natural birth. She and Voitto were born naturally.
They are premature so they're still in danger, but so far so good. A prayer or two for them could be useful.