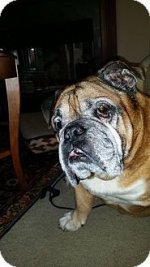 Laid-back and lovable! Otis is a 9 year old Bully with a calm temperament and a knack for napping.
Otis gets along with anyone and anything, there is not a mean bone in his body. He came to us a little rough for the wear. But after a little TLC he has had a spectacular recovery and is in great shape for his age.
He is a little beefy, but still has energy, in small quantities. He has some hearing loss, diminished sight, and a few missing teeth. He doesn't use stairs as he has some arthritis in his hips so will need to go to a home where you live on one level. However, he has no problem going up and down ramps.
He is potty trained and listens very well (when he hears you). He loves to be loved and takes his medicine without complaint, including his eye drops.
If you are looking for a dog that will follow you around the house and take a nap by your side, Otis is the Bully for you.
Adoption donation is: $250.00
All adopters must live in Ohio, or within a 2 hour driving distance of the border.
We do not adopt out to families with children under 8 years old.
How To Adopt:
Please view the adoption process and fill out an application at their website ---> rescueohioenglishbulldogs.org
To view more available English Bulldogs from this rescue, click this link ---> Rescue Ohio English Bulldogs
Please let them know you found them on English Bulldog News!

Last edited by a moderator: