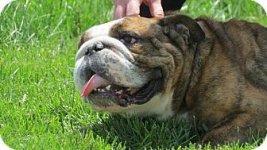 She is believed to be around 4 years old and was dropped off at a shelter by her previous owners. Lilly had Cherry eye and very bad ear infections in both ears which required double ear canal ablation surgery and rendered her deaf. She will need to be kept on a good quality grain free food, work on your hand signals with her since she can no longer hear and have special attention to her nose rope which can get sore very easily. She does good with a routine and will pick up on your household routine very well. She does not mind being handled for grooming or examination.
She is very loving & has a playful side, her favorite days are spent sleeping next to her human, she will follow you around the house all day. Because she didn't get enough attention before she craves it now; her best home would be someone who is home more often so she can hang out with you.
She is incredibly social; whenever we go to the vet everyone just falls in love with her. She is not aggressive with food at all, but she loves her Kong .. she really doesn't like to share it!!! LOL.
Lilly loves a good car ride, walks really well on a leash (no pulling) you almost really don't have to leash her. She is house trained she will use the bell on the door or just scratch at the door in general. She is crate trained for a period of time during the day; about 4-5 hours seems to be her max in the kennel before she will pee in it, she does go overnight in the kennel just fine, she'll also sleep outside the kennel on her doggy bed or the carpet just fine as well.
Lilly is very low maintenance; a Kong, dog bed and nice home with a loving human is all she needs. Please give this sweet lady a place to finally call home & all the love she so deserves. You will never regret opening your home & heart to this Love Bug.
Adoption donation is: $500.00
All adopters must live in Ohio, or within a 2 hour driving distance of the border.
We do not adopt out to families with children under 8 years old.
Update: I've been ADOPTED!
To view more available English Bulldogs from this rescue, click this link ---> Rescue Ohio English Bulldogs
Please let them know you found them on English Bulldog News!

Last edited by a moderator: