Owner/Administrator

Staff member
Community Veteran
Jan 28, 2010
24,756
1,245
Country

USA
Bulldog(s) Names

The Home of the Desert Sky Pack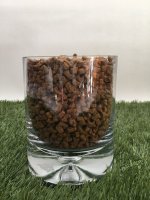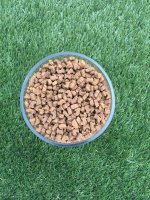 *shoutout to [MENTION=572]Libra926[/MENTION] for kibble counting and photos!*
The concept is simple, try to guess how much kibble is in the jar!
The staff will update each member's guesses at the bottom of this post as much as possible.
But make sure you read all posts and guesses from all members to make sure you are abiding by this contest's rules.
Here are the rules of the game! Important, please read!
No two people can guess the same number of kibble, and guessing only 1 less or 1 more than another is not allowed.
Example, if a member guesses there is 25,000 pieces, you cannot guess 25,001 pieces. If you guess the same number or number plus one, we will automatically add 100 to your guess.
If it just so happens that your guess plus 100 also is another member's guess or one above we will keep adding 100 to the number until it comes out, so make your guess accordingly!!!! We will update the guesses as much as possible at the bottom of this post so you know what the current guesses are.
This contest is sponsored by Fromm Family Foods

Winner of this contest will receive 1 voucher for a FREE 26lb bag of Fromm Four Star Formula!
DEADLINE TO ENTER IS MAY 31st![/CENTER]
GUESSES SO FAR:
448 Cbrugs
473 MeShell
510 Cassie
549 BodiesMom
573 Bhaverstock1
617 Oscarmayer
736 Bentleyray
785 Sir Bentley
811 K9ldy
826 TyTysmom
932 NicosMom
989 Kyrie06
1008 Manydogs
1425 Hstead
1430 decimus
1717 BossMan
1874 Littleeagle
1900 Zeus22
2205 harveyspecter
2345 Hceril
2420 schak
3079 cefe13
3215 Cuddles116
3500 fenderbears
4080 reactionjr
4210 2BullyMama
4500 hapybratt
5365 Tuneybuster
Up to Post: 31
Last edited: