Sep 12, 2013
3,710
195
Country

Sweden
Bulldog(s) Names

Castor (2013-2021 RIP)
Sweet Castor turned eight today and celebrated with his own hamburger and even some fries (and no, he usually doesn't eat on the door mat!).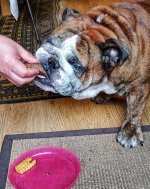 We got him a lick mat and some hopefully tasty wet food plus a treat dispenser toy, but since he was so happy and surprised by his hamburger dinner we decided to save his presents for tomorrow.
Although Castor's muzzle is greying and his step is not quite as energetic as it used to be, he still tries to keep up his puppy looks. Some days he is eager to go on long walks and to hop up on every park bench he sees, but other days are slower. He is on pain meds for potential arthritis but we have cut down a little since he was drowsy. We're happy he has a lot of energy some days but also feel sorry for him when he appears to be in pain other days.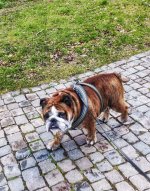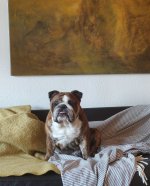 But most of all, says Castor, we long for spring! This is Castor's favourite spot in the garden, but it is still much too cold to bring out his blanket.