New member

Jul 30, 2010
21
4
Bulldog(s) Names

Otis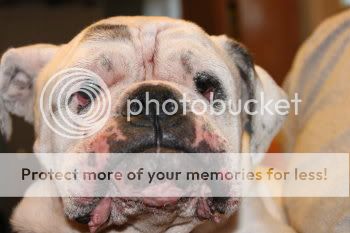 Name:
Caroline
Age:
5
Gender:
Female
Location:
Macomb County, MI
Reason given up for adoption:
Owner Surrender
Temperament:
Great
Health Condition:
Getting Better!
Placement Limitations:
Yes
Special Needs:
Yes
Contact Information:
[email protected]
Comments:
Note - please read the entire post prior to contacting the rescue people.
Hello, my name is Caroline. My story is a sad one until some nice people found a way to help me...
My owner was put into a nursing home several months ago. My owner did not know what to do with me, so someone was coming over to our house every 2 or 3 days to feed me. I was very lonely, and got very hungry in between visits.
Some people got wind of what was going on, and eventually talked my owner into surrendering me over to rescue. Things started to look up!
Unfortunately, I was not very well taken care of for the last few years. I have had some puppies, and I need to be spayed now, and have a mammary tumor removed. I also have some rotten teeth that will be pulled, and my ears are badly infected so I am on medication for them. My eyes got the worst of the neglect. I have severe dry eye in both of them, and I am completely blind in one eye due to what appears to be an old injury. I will have surgery for entropian on one eye, and will need special eye drops for the rest of my life, but I do have limited vision in my one eye.
Despite all that I have been through, I love people, and I am great with other dogs! I am a real couch potato, and I love to eat, and I am so happy to be getting fed every day - more than once a day now. The rescue people think I will gain weight in no time!
I need to either go to a home with a completely fenced in yard, or where someone will take me out on a leash whenever I need to go to the bathroom, as I don't see or hear too well, and I can NOT be trusted off leash without a fence.
If you can give me the loving forever home that I have been hoping for, please complete the online application at
www.rescuebulldogs.org
and contact the rescue people.
The rescue will NOT ship dogs, you must be within a reasonable driving distance from Southeast Michigan to be considered to adopt me.
Please let them know you found them on English Bulldog News.

Last edited by a moderator: