Ok..I am already the type of person who tends to 2nd guess themselves (always want to make sure I am doing doing the right thing). So, sorry for sounding like a crazy person here..lol. You all know Gilbert was having the tummy issues..I believe it was too many marrow bones and and the pumpkin..but I took everything but his food away and his poops have been great! But now, I am wondering if he does have an allergy to something in the food? Again, poops are fine! Just his tear stain (which was hoping would go away when he was done teething) has gotten bigger!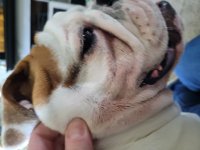 . Was on Fromm Heartland Gold Lrg breed puppy...was thinking could be the beef? Potato? Environmental? He already gets filtered water..stainless steel and ceramic bowls.
2nd part to this question...I have just started him on Fromm Pork and Peas (only single meat protein in this brand) to see if it would help with the rusty color...but my question is...with any (whatever brand) Adult or All Life Stages..the percentage of fat is higher than his puppy food was (14% vs 17% +) should I be worried about the higher fat content? Want to stick to kibble for now.
Sorry for being so long..I am sure I am just overthinking all of this.