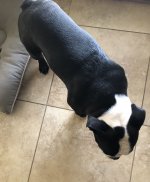 My dog is almost 9 months old, around 35 lbs or so. I feed him Zignature (turkey currently but I switch it between that and whitefish).
I have been feeding 1 cup am + 2/3 cup noon + 2/3 cup pm.
He loves fruit and frozen green beans, so he gets a bit of that too.
The vet said to cut him back on food and feed only 2x day.
So my plan is to switch to 1 1/3 cup am and 1 1/3 cup pm.
The Zignature bag says to feed adult dogs 2.5 cups day, and puppies can be fed up to twice that.
What age is considered adult? Should I still be feeding him more?
He's not overweight, at least in my opinion.