Well-known member
Community Veteran
Nov 16, 2012
1,049
105
Country

USA
Bulldog(s) Names

Jackson, Bogey (granddog) Ruger (granddog)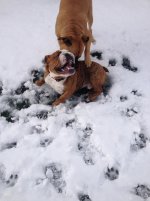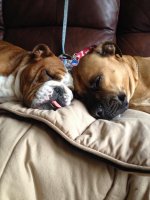 Bogey and I will be leaving at 4 am tomorrow to go HOME! He has just hated the cold weather and snow, AND ice, and has literally hibernated for most of the trip to Ct. It took 67 degree weather the other day to get him outside where he had a romp in the snow with my grand dog, Elliot. Can't wait to get back to the sunshine state!
it looks like it was a miserable Christmas for a lot of us. I can only look ahead and hope that the New Year brings a better change. Bogey and I will be moving to a new home when we get back. Very bittersweet, but looking forward to standing on my own for the first time in my life. Well, Bogey will be with me and that is a blessing!
To all of our family that lost bullies this year, there are no words that will make the pain go away, but we are all here for you anytime!!
Will be off the airways a few days. On to the next chapter of my life!