Hi, Bully parents!
My name is Lee. I am mom to Tank, 4 years.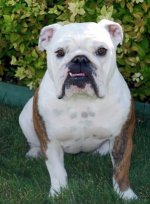 and Daisy, 8 months. My sweet Daisy is sick today! She is totally lethargic. I can tell she doesn't feel good but I don't want to take her to Emergency Care today. I would rather wait until tomorrow, when we can see our vet who specializes in English Bulldogs. She has been so lethargic all day, but she ate her food, pooped and peed. I don't think it is an emergency. I'm thinking she might have a virus. She has a slight runny nose and discharge from one of her eyes. What do you all think? I'm worried about her. The ironic thing is that she was at the vet on Friday for her pre-spay blood draw and she was her usual rowdy, uncontrollable self!
P.S. Whoever did the post on your bully having head tremors, I know something about that. Tank has them occassionally.