Jan 19, 2017
4,189
357
Country

USA
Bulldog(s) Names

Bella (EBD) Roxy (pit mix) Tyson (pit mix) Sadie (boxer)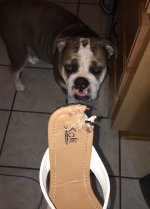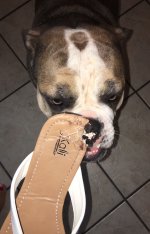 I swear it was just the other day I thought to myself hmmmm..... I think she done with this chewing.






When I found it under the bed I ALSO found a brand new sports bra that I bought the other day.
Well I thought I bought it and when I went to get it since I couldn't find it I thought maybe I left it at the self checkout. Hubby got a kick out of it. He says you are the only person who can pay for something, bag it yourself and not have it when you get home!!