Moderator

Jul 11, 2010
3,395
291
Country

United States
Bulldog(s) Names

Bentley, Linus, Truman
As the mom of a 7 year old bulldog, I am always looking for ways to keep my bully Linus feeling as good as he can, for as long as possible.
After visiting the vet to talk about options for Linus' creaky joints, our vet recommended Rejuvenate by Hannah Pharmaceuticals. It is a chewable joint supplement, given twice daily, that contains glucosamine, chondrotin, MSM, hyaluronic acid, as well as fish oil and flax seed oil.
It is relatively inexpensive ($26 for a 60 day supply) and has worked so well for Linus. Even on rainy or cold days, he is much more comfortable and active, without using pain relievers. We have had a very positive experience with this supplement and while I cannot locate it online, your vet might be able to help you locate it - but it is available without a prescription.
If your bully has hip, knee, or other joint issues or is just a little older, it might be a good option for you and your bully! It certainly gave Linus a spring back in his step!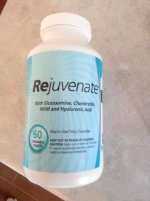 Last edited: