Sep 26, 2012
131
10
Bulldog(s) Names

Penelope Rosebud & Bulldozer Bawss
Penelope Rosebud has her own twitter account (@MissPennyRose) and last week we sent a photo in to People Pets for their Cutest Pets on Twitter contest.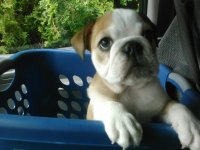 So, there I was browsing magazine sites on friday, and on the People magazine site, in Pets, is our own Penny Rose beside George Clooney!
I am such a proud Mama! It has been six weeks since we adopted her brother, Dozer, and she has been the best sister ever. So proud of her

She is not just a pretty face.
If you are a bulldog on twitter, give @MissPennyRose a follow and we follow right back.
Happy Monday!
Last edited: