I'm not OCD....now who moved my bulldog?

Staff member
Community Veteran
Jul 28, 2011
48,309
3,310
Country

USA
Bulldog(s) Names

Lambeau, Chelios (Frenchie), Nitschke (2004-2011) and Banks (2005-2014)
Our sweet (use that word very loosely) girl has been with us for 6 years.... she keeps us on our toes, but love, love love her!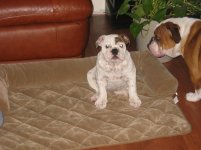 This is the day we brought her home.

Uploaded with
ImageShack.us
Last edited by a moderator: