Apr 5, 2013
49
14
Bulldog(s) Names

Pudge RIP, and Maggie
So, we went to pick up the boys from skateboarding after school the other day.. We sat and watched them for a bit before leaving..
Here is Maggie watching them.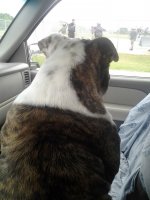 notice she is not in the seat.. her butt is actually on the arm of my seat and her feet are on the center console... goofy dog
And when I made a kissy noise, this is the reward I got..