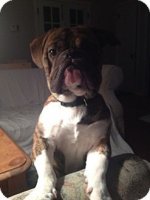 Gravy is around 13 months old and a silly clumsy puppy. Has a very sweet disposition.
He is awesome with other dogs but tries to play too hard with cats, so he can't go to a home with cats.
He likes lots of attention and will tell you so. He especially like kisses on his face. He is playful but gentle. Loves to sleep on your lap and will wiggle his way up until you're holding him like a baby. He will follow you from room to room.
Would do great in a house with another dog to play with. Has funny flipper feet that he uses great as hands to wrap around things. He is still a curious puppy but not destructive.
He is great for the Star Wars fan out there because he looks like both an Ewok and a Rancor.
He is a very easy going but he is young so needs to plenty of playtime. He is also very tolerant of handling by his foster mom and the vet staff.
Adoption donation is: $650
All adopters must live in Ohio, or within a 2 hour driving distance of the border.
We do not adopt out to families with children under 8 years old.
I've Been Adopted!
To view more available English Bulldogs from this rescue, click this link ---> Rescue Ohio English Bulldogs
Please let them know you found them on English Bulldog News!

Last edited by a moderator: