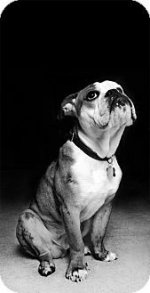 Hello .. my name is Dexter!!
My foster mom says I'm a beautiful boy … and I think I may agree.
I'm 3 years old and although I was very skinny at 30lb when I came to live with my foster mom, I now weigh 43lb.
I have no health issues but my background has left me with some habits that I shouldn't have. My foster mom has worked very hard to show me what to do and what not to do, but I'm still learning. She says I'm very smart but am a little OCD because I do like my routines!!! I seem to react best to schedules but I can still have some separation anxiety. I prefer to be in my kennel when it's time to sleep and when my family leaves the house. This is because I like it because I am completely house trained.
I love attention and my foster Mom says I'm NOT a lap dog …. which is just silly because obviously I am!!!!!
I love car rides and I will walk on a leash .. kinda .. it's a work in progress. I like to lead and so I do need consistent training on this.
I can play very rough with my toys but that is because I was never taught how NOT to play. My foster family has been working hard to show me how to play nicely but it's another work in progress. Because of this I cannot go to a home with children under the age of 14 years!! I like to jump and I am very strong. Also because I can jump higher than Tigger can bounce, I can't go to a home without a high privacy fence!!
Did I mention I don't like dogs? Therefore, I must be the only dog in the household. I do get along with cats.
My ideal furever home would be with somebody who is home a lot, or who has a very structured day if they have to leave. I need to have somebody who understands that I need to be trained as if I was puppy because I still need to work on my social skills. They must have previous bulldog experience!!!
All adopters must live in Ohio, or within a two hour driving distance of the border.
My Adoption fee is $500.00
I've Been Adopted!
To view more available English Bulldogs from this rescue, click this link ---> Rescue Ohio English Bulldogs
Please let them know you found them on English Bulldog News!

Last edited by a moderator: