Aug 2, 2012
356
25
Bulldog(s) Names

Layla and Wilbur
Hee hee since I am cuckoo for cocoa puffs over my babies, I like to get them presents all the time (natch) but ESPECIALLY for "Animal Holidays" (Groundhog Day, Thanksgiving, Easter).
Here's this year's Easter gift!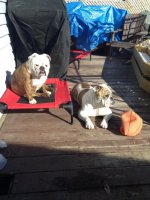 Wilbur is still a little "unsure" (but he sure killed that BBall to show the lounger who is boss!)...
Layla got it right away!