Jul 15, 2011
268
41
Bulldog(s) Names

Arwen Undomiel
So, there we are in the living room playing and having a great time. Chasing toys, playing keep-away, running, jumping on and off the couch (which she learned 2 days ago). All in all, the start of a great afternoon. :D
Arwen was in one corner of the room, and I was in the other. I give a fake to the right like I'm going to run into the kitchen. She comes running to me at full bully speed , so I crouch, knowing that she will jump slightly off the ground for an airborne turn into my arms.
Then it happened.

With her newly found ability to jump up onto furniture, she decides to break protocol and rather than jump forward into my arms, she jumps UP into me... HARD! Well needless to say, I took a bully skull to a VERY sensitive spot and was on the ground in a second.
Arwen thought this was awesome and proceeded to climb all over me for more playing while I tried to catch my breath.

Yeah... here's my "sweet little princess"....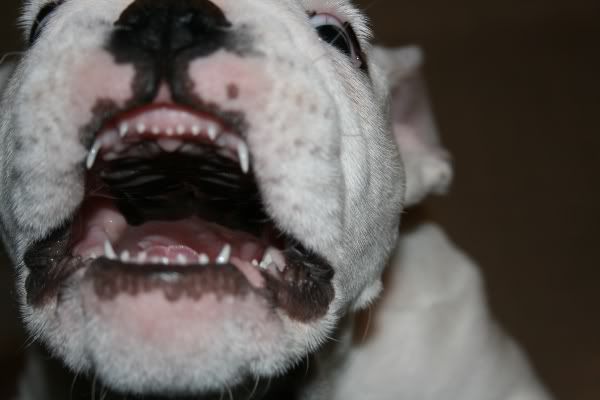 Notice the Supernumerary top teeth? I didn't till I took this picture.