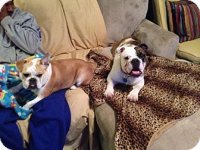 Zeus is a high energy, fun loving 13 month old bulldog. His adoption donation is $650.
He enjoys playing with his foster siblings, cuddling on the couch and going on walks (not the best on a leash but getting better each time).
He is great with other dogs and would do best in a home with other dogs his age to play with. He shares very well with the other dogs in the house and isn't food or toy possessive. We're unsure about cats.
Zeus is potty trained and he's even learned from the other dogs and rings a bell at the back door when he needs to go out. He's only had a few accidents and they have all been overnight (Zeus used to be kept outside a lot and
as such could go whenever he needed, but he's learning to hold it till morning).
Zeus does tend to get over excited and at times can be mouthy. When this happens his foster mom puts on his 'Thunder Shirt' and he settles down. If he's being mouthy, his foster mom shakes a can of coins or gives him a chew toy and redirects him. His adopters will need to be consistent with redirecting him.
Zeus is ok around kids however you need to watch him close as he does tend to jump up and knock them down – not in a mean way; he just wants to play!!
Zeus does need to watched very closely as he does like to chew; like most puppies. He's crated when no one is home and he doesn't mind that. He likes to get into stuff and he's been known to go hunting in the trash for things to chew. Some of his favorites: cardboard, empty plastic bottles, remotes/electronics, shoes and bras.
He doesn't like the broom or vacuum much and will bark at them consistently.
At night he sleeps in the bed with his foster mom or on his dog bed on the floor. He's better off sleeping in the bed because he's more content and doesn't get into things; when he's on the floor he's on the hunt for stuff to chew!
He is very loving when he's not in play mode. He loves his belly rubs and be scratched behind the ears.
He doesn't like having his back rubbed or having his face or paws messed with, he'll need some work in this area.
He also loves to try and escape out the front door whenever it's open and he's very fast which
makes his game of 'try and catch me' quite challenging. Therefore, he must go to a home with a fenced in yard.
His eyes were very red and watery when he came into rescue so his foster home has figured out He has a food allergy and MUST be fed a grain free diet. Absolutely no human food – you can tell by his.eyes if he's gotten some.
I've Been Adopted!
To view more available English Bulldogs from this rescue, click this link ---> Rescue Ohio English Bulldogs
Please let them know you found them on English Bulldog News!

Last edited by a moderator: