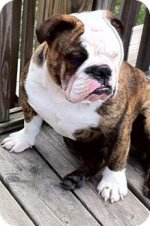 Titus is a very very handsome young 2-year old boy that is pretty much breed standard perfect.
He is fit and healthy and does not seem to have any joint, skin, ear, eye, or tail issues. He does not mind being handled for grooming or examination.
He is young and energetic and LOVES attention. He is wonderful with other dogs and children and has been very social with people in general.
He was very nervous and frightened when he first came in to the rescue, and was likely abused. He still runs away or jumps at loud noises or large objects. He high tails it when he sees you coming with a bag of garbage! Lol. But he has made huge strides and is really starting and WANTING to trust.
He likes to cuddle and always wants to be near you. So he needs to be in a home where somebody is home most of the day.
He would be great in a family with at least one other dog. He can NOT be an only dog. He shows no aggression at all even with food. He loves to ride in the car and does well on a leash. He is crate trained and very comfortable sleeping there at night. He is house trained but did some marking pre-neuter. That seems to have stopped since his neuter. . He is a charmer and has the looks to back up the personality!
He is the whole package.
Adoption donation is: $800.00
All adopters must live in Ohio, or within a 2 hour driving distance of the border.
We do not adopt out to families with children under 8 years old.
I've Been Adopted!
To view more available English Bulldogs from this rescue, click this link ---> Rescue Ohio English Bulldogs
Please let them know you found them on English Bulldog News!

Last edited by a moderator: