Jan 19, 2017
4,078
148
Country

USA
Bulldog(s) Names

Bella (EBD) Roxy (pit mix) Tyson (pit mix) Sadie (boxer)
So today the little bugger got into my sons allergy medication. Opened the bottle and ate he thinks 3-4 of them. We gave her peroxide to make her throw them up , which she did with all of her breakfast! Now she is pooped.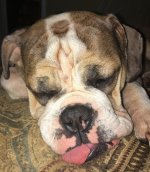 I can't leave anything on my nightstand anymore as she thinks it hers if she can reach it.
The other day she got and chewed up a winning lottery scratch off that I had IN my purse on the nightstand. She is lucky it was only a $5 winner! Btw she didn't eat the looser ticket that was on the nightstand next to my purse.