Apr 28, 2013
1,714
212
Country

USA
Bulldog(s) Names

"The Stallone Bros"
I could barely calm them down to snap these pictures, Rocky and Rambo received their game day attire, and absolutely ran all over the house, across all the furniture, and couldn't be still for a minute for pictures, I snapped these on the go, hope they will give you an idea of how they look, then I undressed them quickly after making sure they fit!!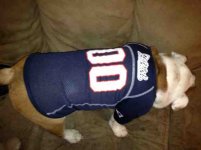 Rambo and his New England Patriots Jersey (L)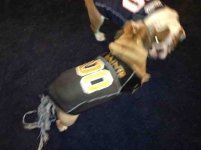 Rocky and his New Orleans Saints Jersey (L)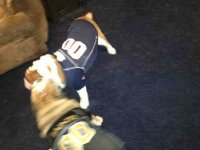 Rambo and Rocky Together, LOL, Rambo is so Sassy and vocal about his team, and team pride, I caught them in a huddle and the picture took forever to capture on my phone, but a good idea of their team spirit along with Dad. We may not be season ticket holders due to the Superdomes Policies, but we do have more, and better refreshments, and with the home theater, along with HD TV wide screen, it looks and sounds as if we're on the sidelines, snacking on popcorn !! Roflmbo.
Sent from my iPhone using Tapatalk 2