Worlds Greatest Chef

Feb 25, 2011
8,925
850
Country

United States
Bulldog(s) Names

Tate Rory & Finn Paddington
Finn and Tate love to play rough together. Sometimes tho, it gets out of hand and Finn usually ends up getting angry at Tate and then a fight ensues with Finn usually coming out the victor.
This time, Tate was able to pin his brother down...and for a couple minutes, Tate actually fell asleep on top of Finn. Finn was not a happy camper at all.

I got him!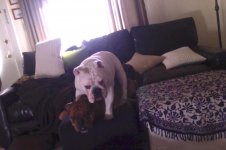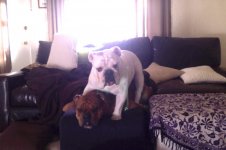 Okay, time for a snooze...