Head Pooper Scooper

Staff member
Mar 21, 2011
13,407
848
Country

USA
Bulldog(s) Names

BeBe, Hazel, Lucy Lu, JLO, Hillary, Henri, & Katie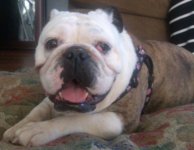 PLEASE WELCOME SNOOKUMS
Snookums is a true puppy mill girl She has spent her 4 yrs of life in a horse stall bearing and raising puppies so her owner could profit from them. This girl has never been outside of the barn and is terrified! She has never had a collar, harness or been on a leash, let alone walk on grass. She made her way to PNWBR after some folks answered an ad in the Oregonian this past holiday weekend and after seeing her and the conditions in which she was living in knew they had to get her out, but once they got her home quickly realized they were in way over their heads and called us for help. Snookie comes in with cherry eye, ear infections, covered in fleas and unspayed. Despite the horror this girl has lived and endured she is the sweetest girl!! She will be in our care for awhile as we take baby steps and teach her what it is really like to be a bulldog and how great life really is. We could really use your help in caring for this girl and getting her some things she needs and never had, please donate to help her, every little bit helps.
Snookums have crossed to the Rainbow Bridge. Run Free<3
To view more available English Bulldogs from this rescue, click this link ---> Pacific NW Bulldog Rescue
Please let them know you found them on English Bulldog News!
Last edited by a moderator: