The Stripe Wearing, Broom Wielding, Voodoo Prieste
Community Veteran
Jul 13, 2012
1,145
66
Bulldog(s) Names

Amber and Ruby
Well, hello again everyone. I have been gone for a good little while; there have been a few challenges, too many to mention but I am back and I look forward to interacting with everyone once again. I am going to start off with a before and now picture of Kristana with Amber. Amber is 7 years old and we have: amber, ruby, Ralph and Austin along with too many sheep, cattle and chickens to mention.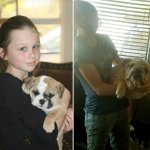 Amber just happened to be the one lucky to get picked up. Amber is our teddy bear and Ruby......well, she is AKA thug girl. hehe; our house stays on rock and roll mode. And it just wouldn't be fair not to add the others.....so one picture is Ruby figuring out how to get the chair, then Ruby gets the chair to herself, then Ralph and Amber sharing the bed.....its Ambers bed but Ralph can fit on it with her. I got a baby bed from the thrift store with a plastic mattress and it works great, low to the ground and comfortable for them. Easy to clean.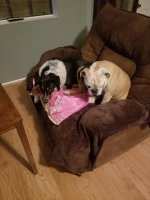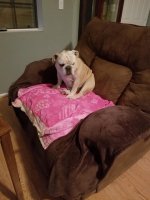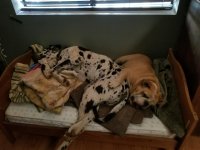 The whole gang.....well not counting the cats.
Last edited: