Apr 30, 2020
7
0
Country

Wales
Bulldog(s) Names

Rebel
Hi to you all,
I am soon to be adding our new baby Bully to our already amazing family at the end of June and wanted to join the community to share our adventures and draw on all of your advice, tips and tricks etc. I am the wrong side of 35, married to my best friend and have 4 amazing human children :D We are lifelong dog lovers and since the passing of our beloved Boxer (Billy, god rest his soul) last year, we have experienced a terrible void which we have taken steps to remedy by finally finding our perfect little girl, so everyone please meet Rebel!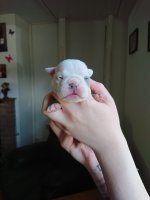 She is so, so tiny as she's only just 2 weeks old but she's already adorable and the wait until the end of June to finally bring her home is going to be a long one!!

Anyway, that's me (us) and I look forward to being an active member of the community. Bye for now!