Snookie ain't got nuttin on me!
Feb 6, 2012
4,928
181
Bulldog(s) Names

Brutus (EBD 6/4/11), Chanel (Pitbull 12/23/06)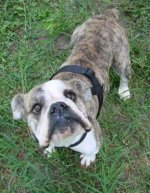 Girl is 2 years old and very healthy. She came to us heart worm positive, had treatment, and is now heart worm free! Recently, we have discovered that she's a little tom-boy! When Girl came to us, she wasn't making too many friends with her fellow bullies. But now she has been going outside to play with just the boy dogs and she loves it! Girl can be fearful of things she thinks are scary and needs a patient owner to bond with and reassure her its all okay! (An experienced dog owner only please)
Pet ID: Girl • Spayed/Neutered • Up-to-date with routine shots • Prefers a home without: young children • Special Needs • Primary color: Brindle
Here is the site for Buddies thru Bullies.
Thank you so much for taking the time and considering one of these orphan Bulldogs.
If you are interested in adopting, go to
http://www.buddiesthrubullies.org/
and fill out an application.
To view more Bulldogs for adoption through Buddies thru Bullies, click the link below:
http://www.englishbulldognews.com/forums/forumdisplay.php?90-FLORIDA-Buddies-Thru-Bullies
Please tell them that you found them on English Bulldog News!