My brother in law built a dog house for his two dogs Mya and Duke with a full blown built in air conditioner. Duke is a pure bred Husky so he figured he had to do it. Buster went over to his and my sister in laws house this weekend for the first time. It was the first time he met Mya a Shiba Imu. Duke has been to our home before and him and Buster get along perfect but it was the first time he had been to his cousins house. He seems so small compared to the two of them.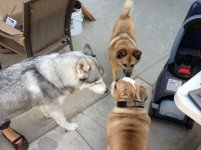 Mya will be 9 and was very upset that this little pig had come into her backyard without her prior permission AND he went straight into her brothers house and had the audacity to drink out of her brothers bowl!!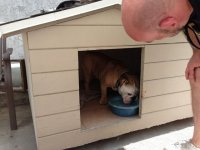 It's a hot hot hot summer this year and I hope everyone stays cool! Keep your Bullys cool too!