Moderator

Sep 16, 2010
5,939
336
Country

Canada
Bulldog(s) Names

The Stig Racecar Driver and (Sweet Angel) Punkin Brutus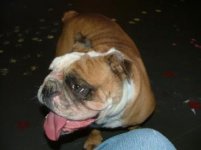 Name: Buddy aka The Budster
Age: 4
Gender: Male
Location: Sacramento, CA
Reason given up for adoption:
Surrender
Temperament:
Good
Health Condition:
Good
Placement Limitations:
Nor Cal Only!
Special Needs:
No
Comments:
This is Buddy aka The Budster aka The Bud Man. He is a 4 yr old, red and white neutered male. The boy has been bounced around lately. His owners dumped him at a shelter a few months ago. He was adopted out right away to someone who was gone way too much during the day and left him in a crate for way too long. She gave him to a nice friend who didn't realize how much work Bulldogs could be, so now Buddy is in rescue. He was recently neutered so he still has the habit of 'marking' his territory. His foster mom made him a belly band to prevent him from doing this inside. He will be placed with a belly band. Update from his foster mom: Buddy gets along with his foster family, so we will consider placing him with a spayed female companion.
He is a very happy guy, his tail is always wiggling. He could improve on his manners as it seems like no one has been consistant or worked with Buddy much. He needs someone who can be patient and not get frustrated with him. This boy is a diamond in the rough.
*Please have an adoption application on file before inquiring about Buddy
*There is an adoption fee for Buddy
*All applicants must have home check visit
HOW TO ADOPT:
To view more available English Bulldogs from this rescue, click this link ---> NorCal Bulldog Rescue
Last edited by a moderator: