I would love some advice. Tuffy's continues to chronic bulldog acne.
He's only 10 months old and the vet says it's quite common in bulldogs, especially for the first year of their lives. Tuffy's had two rounds of cephalexin and it helps but once he stops taking the pills it comes back. I've read that sometimes you need to go on a longer course (few months of antibiotics) for chronic cases. The acne doesn't bother him and it's strictly a cosmetic thing at this point. The vet is having us use a medicated shampoo hexadene every day and said it's not severe enough to warrant a trip to a dog dermatologist. So I guess my question is should I go for another round of antibiotics or let it run it's course till he's a year or so and then take another look? I know that giving antibiotics can weaken the immune system so I'm torn.... Other than his muzzle and chin he has no other skin issues. Fortunately his coat his thick and shiny.
I've also read that there are other topical ointments that you can try...like benzoyl peroxide shampoo (OxyDex or Pyoben gel). Has anyone tried that or had any success with other topical treatments? We've tried Stridex in the past but it made his zits burst and his skin got really red. I'd like to find something to soothe his chin when the zits scab over because right now his chin looks really chapped and dry...photo below.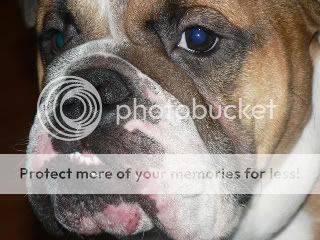 To boost his immune system, I'm planning to put him on a NuVet plus vitamin supplement and am also looking to switch him to a grain free food because his current commercial kibble has corn in it and I'm sure that's not helping his skin issues. It gives him good poop (that's why he put him on it before running the holistic course) but it's not a food I want to keep him longterm.
Thanks....