Dec 20, 2012
336
12
Country

USA
Bulldog(s) Names

Sir Rumble Pig Peterson AKA Rumble
Rumble is officially 6 months old today! He has changed so much since the day we brought him home. He is now up to 47 pounds and is really showing his personality. He loves to cuddle with us in the mornings and at night when he is sleepy and in between he loves to chew on his toys and occassionally run about the house like a crazy man. Walking is still an issue but I am still trying in order to make sure Rumble gets his exercise. His newest thing is sunbathing in the backyard which will unfortunately have to soon come to an end because of the hot Oklahoma summers. Rumble does have one request on his special day....vote for him in a facebook contest! He is currently in second place and I do not have the heart to tell him if he does not win. Here is the link:
https://www.facebook.com/#!/photo.p...954822.1073741828.304176574821&type=1&theater
Rumble on the day we brought him home.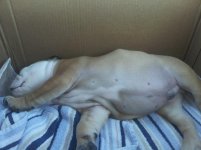 Rumble this morning chewing on his antler while on my lap before work.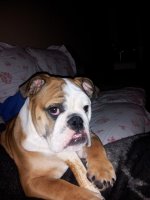 And last night sleeping after coming home from training.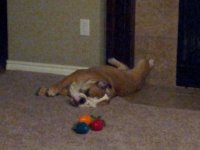 I can't imagine my life without him now that we have had him for 4 months. He is one of the best things to happen to us!