Feb 13, 2016
131
8
Country

United Kingdom
Bulldog(s) Names

Betty
We're having skin issues again with Betty. The first time around she was getting hotspots on her neck and had a scaly raised patch of dermatitis right above her tail. The vet gave us a 10 day course of antibiotics and steroid cream. The hotspots went away and the weird scaly patch went back to normal pink skin. Now we are noticing little bald patches all over her body, between her shoulder blades, above her tails and on her sides. They aren't red or irritated looking really, just lots of bald patches. You can't really see the patches unless you're looking at her from behind because of the way her fur lies and then it looks really bad. We're transitioning her onto a grain-free food currently, but when I saw the vet last time he said he would be surprised if the dermatitis/etc was related to food allergies. She gets coconut oil and greek yogurt as well and I have been rubbing her all over with coconut oil. She does scratch at her belly and sides sometimes, but not excessively.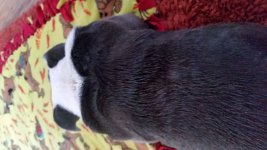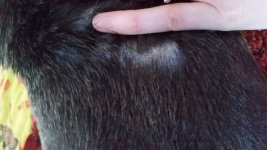 This picture doesn't really show the extent of it, but that's one of the bigger patches.
Taking her to the vet on Thursday to get it checked out/get a skin scrape. I just want to make sure she doesn't have mange/mites, but I have a feeling it's allergy related. It's very frustrating as her coat was pretty much fine when we got her (except for one hotspot and the scaly patch of dermatitis) and her old owners had her on really poor food (she had red poop because of the dye in the food), we're been trying to give her the best and her health just seems to be deteriorating
I know stress has some part in it/new environment, etc and just looking at the threads here I can see skin issues are very common. Hopefully the vet can sort her out, but have a feeling we will just get a course of antibiotics again.