Owner/Administrator

Staff member
Community Veteran
Jan 28, 2010
24,755
1,241
Country

USA
Bulldog(s) Names

The Home of the Desert Sky Pack
Urinary Tract Infections can be often reoccurring. This is why my vet wanted me to try this supplement for our girl when she got a pretty bad UTI. He was certain that it would not clear up completely with a 10 day course of antibiotics and did not want to go longer because then it is too long and will kill all beneficial bacteria as well. He suggested I follow up with this product and I can happily say Mandy has never had another UTI in two years. I used up the whole bottle and have not thought of it again until now I have a new girl with a UTI. It's a bad one too. There is blood and she wants to pee every 15 minutes. Poor girl. I already got some on order. I thought I should tell everyone on EBN about it too.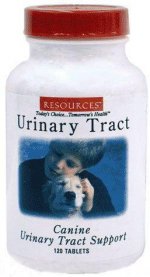 An optimum blend of herbs and mushrooms individually formulated for dogs designed to support the urinary tract. Contains natural antimicrobial agents such as Uva Ursi and Cranberry, which studies have shown may reduce the ability of bacteria to adhere to the lining of the bladder and urethra. Poria and Polyporus mushrooms have been shown to act as natural diuretics, while Marshmallow soothes inflamed and irritated membranes. Nutritionally supports pets suffering from temporary deficiencies due to cystitis, bladder stones, bladder inflammation and associated symptoms.
Pets should be off dry and drinking plenty of liquids such as water, rice milk, soy milk or apple cider vinegar. Tablets may be given orally or crumbled and mixed with moist food. Responses to natural dietary supplements may vary by animal.