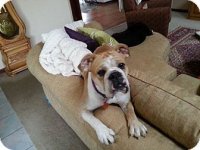 Lola is a beautiful, wrinkle (squishy) faced, lovable, high energy, 2 year old female English Bulldog. She enjoys playing with her foster siblings, cuddling anywhere and anytime and she loves going on walks. At first she gets pretty excited and pulls, but after a block or so she settles down and walks at your side.
She is great with other dogs and would do best in a home with other dogs her age to play with. Although she isn't food or toy possessive, she doesn't back down when confronted and will bark to claim an item or food. She does like to establish dominance. Both our dogs are pretty passive but she wanted to make sure they knew she was the alpha. She has not been exposed to cats!
Lola is still working on her potty training. We place her in our laundry room when no one is home and we come back to no accidents. However, when given free roam of the house and not watched she will try and leave you a surprise.
Lola is very loving and always wants to be near you. She will follow you around and try to get on your lap when you are sitting. Lola loves chew toys; her favorite is stuff animals. However, they do not last very long. She is good about ripping the stuffing out. She is not destructive with personal belongings. But she has chewed a few holes in her padded dog bed we put out for her. I attribute that to her love of all things soft. "They're so FLUFFY!"
Lola has a lot of energy for a bull dog and loves running around the house and yard. A home with a fenced in yard would be ideal. While she is running her butt gets about 2 inches from the ground when she is trying to scoot herself around really fast, it is the cutest thing. She doesn't have the best of breaks and often slides into something or someone.
Lola is very healthy but has moderate allergy issues. She receives antihistamines daily. When her allergies flair she will scratch excessively, to the point she will scratch her skin raw. A bath every 3-4 days with allergenic shampoo helps, as well as medications as needed. We are still trying to determine if her allergies are environmental or food related.
Lola is a fantastic bully who wants to play and express her love, mostly through cuddles and kisses. She will need a home with patience as she is still getting over her rough start in life and learning how to be a proper dog. Though she is almost 2, she has the mindset of a puppy and will require some training.
Adoption donation is: $600.00
All adopters must live in Ohio, or within a 2 hour driving distance of the border.
We do not adopt out to families with children under 8 years old.
I've Been Adopted!
To view more available English Bulldogs from this rescue, click this link ---> Rescue Ohio English Bulldogs
Please let them know you found them on English Bulldog News!

Last edited by a moderator: