Sep 6, 2021
8
8
Country

United States of America
Bulldog(s) Names

Odis Blu
Odis Blu, our full of life 4-year old English Bulldog suffered a stroke to the spine on August 30, 2021. It has left him with all four limbs temporarily paralyzed - left side more severe than the right. The medical term for the spinal stroke is Fibrocartilagenous Embolism (FCE). The neurologist is optimistic with a 75% chance of recovery in his favor. He has deep pain sensation in all four limbs. He developed an UTI and diarrhea, which was ongoing for almost four days. It has been an enormous challenge given his lack of being able to move. Due to his diarrhea, he, unfortunately, developed a butt rash wherein his tail pocket, anus, general butt area and scrotum are all irritated and raw. Because doctors were unable to send him home with an in-dwelling urinary catheter, we were forced to try to express his bladder manually. However, given his anatomy and paralysis, we were unsuccessful. Nurses who cared for him in the ICU also had a difficult time trying to locate his bladder. We were ultimately forced to take him twice a day to the primary vet for them to manually express his bladder or use a temporary catheter pump. He has since began urinating on his own, but hesitant to urinate or defecate in his home because he's such a good boy. This may be the reason he developed an UTI.
In just a week, costs for his hospitalization and diagnosis (MRI, ICU stay, medications, etc) have sky-rocketed. We have not gone into the rehabilitation process as of yet. We have started a GoFundMe page to try raise some money for his medical process and eventual recovery. The link to his GoFundMe page is as follows, should anyone be interested in donating towards his recovery: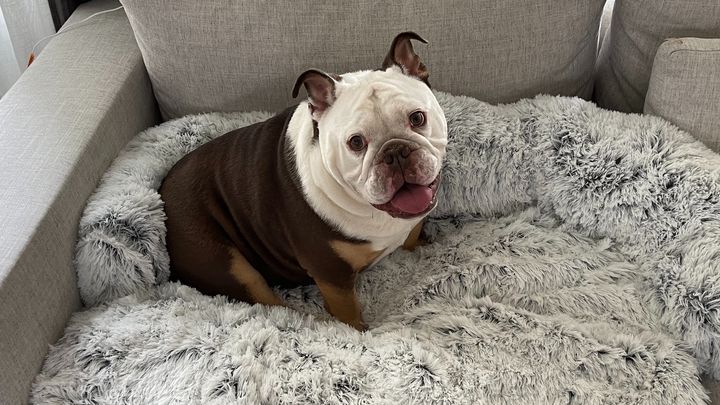 Hi, my name is Odis Blu. I am a 4 year old English Bulldog. I have been one of the healthiest, g… Mashal Mashid needs your support for Help Odis Blu Recover!
We are currently expecting our second child (currently 8.5 months pregnant) along with raising an 11-month old baby, trying to work from home due to COVID with minimal physical family support. Working from home is a blessing in disguise for his situation as we are able to care for him 24/7.
I have attached some photos of him this past week. The photo with the harness where he's on the gurney is the day we picked him up from the ER after he was diagnosed. The photo of him in the car with the black towel is when we took him to his primary vet to have his bladder expressed. The photos of him standing and sitting are more recent after he was hospitalized for the second time due to his secondary issues.
We are trying to scramble within our brains to find the best solutions. Due to the doctors not allowing him to go home with a catheter, we are seeking some possible solutions for his urination management. His bowel movements seem to be under control. The nurses are hand feeding him his food and syringe feeding him water to stay hydrated. They are rotating him every 6 hours to avoid any bed sores and doing some basic exercises to keep his limbs from being stiff and developing muscle atrophy.
We are desperate for information or help. If anyone has been through something similar or could offer any advice, we would love to hear from you. Thank you in advance and please keep our fur baby in your prayers!
Last edited: