Bully lov'in wonder from down under

Mar 25, 2012
6,731
420
Country

Australia
Bulldog(s) Names

Ftse
Available Bulldog: Butkis
Update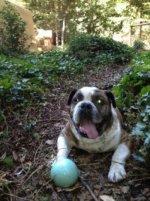 Reason given up for adoption:
Stray - owner located, unable to reclaim dog
Temperament:
Sweet, bonds quickly with anyone who gives him attention.
Health Condition:
Good
Placement Limitations:
Northern California only. No history with cats. No small kids due to his size and strength. Could be placed with submissive spayed female.
Special Needs:
Yes
Comments:
I need a hero! I know there are younger dogs on the list needing homes, but please don't overlook me. I am a sweet, mature guy who doesn't ask for a lot and will be your buddy forever. I was a stray at a local animal shelter and one of the animal control officers decided to be my guardian angel. he made sure I found my way into bulldog rescue. I am good with potty training and will be good if let out every 4-5 hours. My favorite toy is this soft rubber ball which I love to rest in the ivy and chew on it. I love my foster mom and dad but I can learn to love you too in about 5 minutes. I am an excellent sleeper.
I like short walks, nothing too long, remember I am a bulldog with a few miles on him. I do have dry eye in my right eye and will require twice daily drops. I also have long term kidney issues and will require prescription dog food to keep me feeling good. And I am feeling GREAT.
WONDERFUL NEWS!! AFTER ONLY ONE MONTH ON PRESCRIPTION KIDNEY DIET MY BLOOD WORK IS IMPROVED DRAMATICALLY. I AM ON MY WAY TO BEING A NEW MAN.
Wanna Adopt?
Please view the adoption process and fill out an application at their website ---> norcalbulldogrescue.org
To view more available English Bulldogs from this rescue, click this link ---> NorCal Bulldog Rescue
Please let them know you found them on English Bulldog News!

Last edited by a moderator: